HGLaser Online CO2 Laser Marking Machine (Marking On The Fly)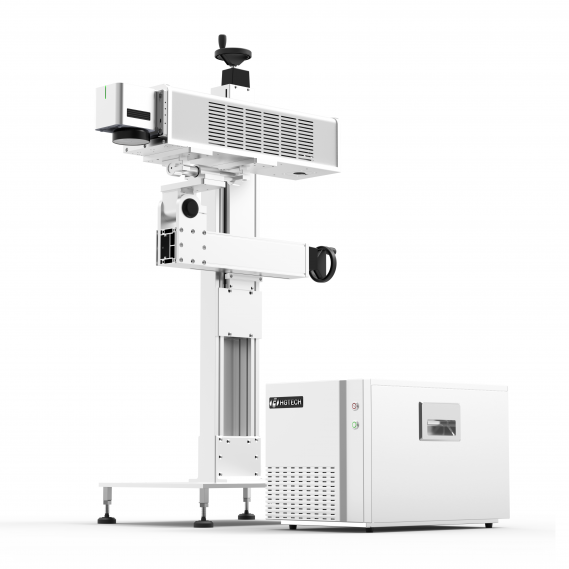 Product Description
The online laser marking machine includes online fiber laser marking machine, online UV laser marking machine and online CO2 laser marking machine.
The series machines can mark permanent makers, work in adverse conditions and meet the demands of all kinds of packing materials. Online laser marking system series integrate advanced galvanometer laser marking technology with imported RF excited sealed CO2 laser. Combining laser technology with production line, it can mark on rapid moving products. This marking machine is mainly used in marking Chinese characters, English characters, figures, batch numbers, production dates, LOGO, real time clock information and anti-counterfeiting, especially the pharmaceutical industries GMP and food industries HACCP.
● Flexible structure, fast speed, high security;
● High efficiency, high electro-optic conversion efficiency;
● Long life, easy operation, low running cost, operated in 24 hours.
Itís suitable for all kinds of nonmetals and some metals, such as paper, PVC, rubber, wood, glass, ceramic, plastic, PET, HDPE, leather, etc. And it is widely used in packing boxes, packaging bags, films, food cans, glass bottles, drink bottles, HDPE bottles, cables, pipes and electronic components industries.
Technical Parameters
Model
Flying30C
Flying55C
Flying70C

Wave Length(um)

9.3/10.2/10.6

9.3/10.2/10.6

10.6

Output Power(W)

≥30

≥55

≥70

Marking Speed

≥7m/s

Marking Area

110mm

Marking Focus

150mm

Marking Font

Scribing, dot matrix

Marking Mode

Static and dynamic

Online Speed

≤120m/min

Marking Material

Label, paper, PET, HDPE, glass, wood, etc

Temperature

5-35℃

Humidity

Relative humidity<95%, frost-free

Structure Material

High-quality aluminium alloy; stainless steel

Edit Mode

Computer software

Communication Interface

USB Interface;RS232 Interface

Power Supply

AV220V/50,60HZ

Rated Power

800W

1200W

1200W



Please contact us for more information.