Zebra ZD500R UHF RFID Desktop Barcode Label Printer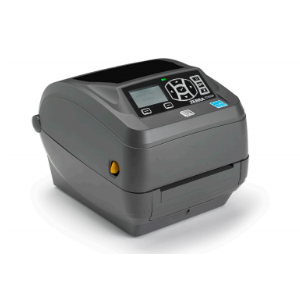 Small in size but full of features, the ZD500R is Link-OS-enabled making it simple to integrate and manage. With automatic calibration, you'll enjoy lower media cost, less waste and fewer roll changes. Featuring UHF RFID encoding capabilities, it is ideal for numerous applications such as retail tagging as well as manufacturing, government and healthcare tracking.

SPACE SAVING SIMPLICITY
Designed for applications where space is at a premium, the compact ZD500R offers simple, one-touch printing and encoding, straightforward loading, and automatic RFID calibration, making it ideal for applications where technical support staff is not available, such as retail in-store exception tagging.

POWERFUL RFID FEATURES
The printer supports both direct thermal and thermal transfer printing and is compatible with inlays from all leading suppliers. The ZD500R can be used with a variety of RFID labels and tags from small, item-level hang tags to large case and pallet labels. By encoding RFID inlays that are spaced closer together, the ZD500R enables lower media costs, less media waste and fewer roll changes.

FUTURE PROOFED FOR TOMORROW'S APPLICATIONS
Since it is built with the same innovative technology as Zebra's industry-leading RFID printer/encoders, existing applications can be easily adapted for use with the ZD500R. The ZD500R supports next generation inlays and offers 802.11 a/b/g/n wireless and Bluetooth® connectivity.

Bring UHF RFID printing to your desktop. This small, easy-to-use printer delivers advanced features in a compact footprint for convenient, simple operation.

PRINT WIDTH
4.09"/104 mm

PRINT RESOLUTION
203 dpi/8 dots per mm
300 dpi/12 dots per mm (optional)

MAXIMUM PRINT SPEED
4"/102 mm per second
4"/102 mm per second

MEDIA SENSORS
Multi-position gap and movable black-line media sensors

COMMUNICATION METHODS
RS-232 auto-sensing Serial interface, DB-9 (standard)
USB V2.0, bi-directional (standard)
Centronics® Parallel (standard)
Ethernet—10/100 internal (standard)
Wireless—802.11 a/b/g/n and Bluetooth 3.0 (optional)

INDUSTRY USE
- Healthcare
- Transportation
- Retail
- Manufacturing


Please contact us for more information.