Sefelec 56-S Electrical Safety Tester (Hipot, Insulation, Earth Bond Test)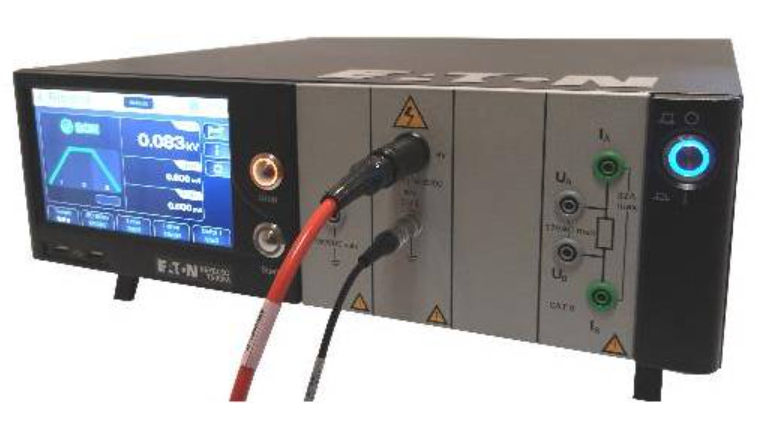 SEFELEC 56-S
The EATON Electrical Safety Tester
3 tests in 1 device: hipot, insulation, earth bond test
The SEFELEC 56-S is the new generation EATON Safety Tester (3 tests in 1 device: hipot, insulation, earth bond test) based and controlled by ARM-Dual Core and DSP technologies providing the best stability and repeatability. The high accuracy and measurement speed are suitable for quality control or incoming inspection departments. The sequence mode makes the SEFELEC 56-S easier to use and integrate in a control or a test-bench. The new SEFELEC Series HMI, with its 7" dual-touch TFT screen, offers simple and intuitive operations.
SEFELEC 56-S: features and benefits:

Dielectric strength up to 5kVAC 50VA or 6kVDC
Insulation measurement up to 2TΩ at 1000 VDC
Adjustable voltage from 10 to 1000 VDC by steps of 1V
Earth bond test under 6VAC / 32A
Programmable test ramps
Up, Steady, Down
Multi-ramps mode (hipot test)
7" TFT Multi touchscreen 16 million colors for programming, tests and results display
ARM-Dual core control & Nand 3D technologies inside for more accuracy, stability and repeatability
DSPs speeds up measurements and production tests
Large internal memory for configurations and testresults storage
IEC 61010-2-034 full compliance, specific safety standard for insulation and dielectric strength meters
• Native Ethernet / RS232 / USB / PLC / 0-10 V
• IEEE488-2 interface as an option
• Bus CAN for external additional modules (Scanners)
• SIL2 double safety loop
• Automatic measurement range selection
• Sequence mode to combine several successive tests (i.e.: Insulation / Hipot / Insulation / Earth Bond)
SEFELEC 56-S : Electrical Safety Tester - Overview
FRONT PANEL

REAR PANEL

SEFELEC 56-S : Touchscreen - Overview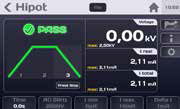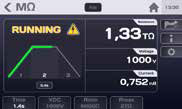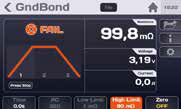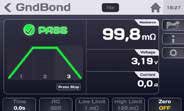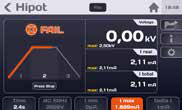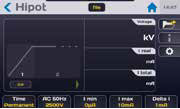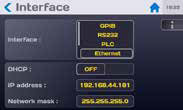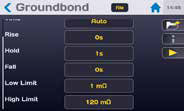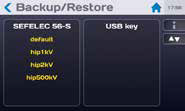 SEFELEC 56-S TECHNICAL SPECIFICATIONS
Hipot Function
Voltage range:100 ... 5 000 VAC / 100 ... 6 000 VDC - Positive pole connected to bond in DC
Short-circuit max. current:< 20 mA AC / < 20 mA DC
Insulation Function
Measurement voltage:20 - 1000 VDC, accuracy ±(1% + 1V), positive pole grounded
Measurement range: 100V (100 kΩ to 20 GΩ), 250V (250 kΩ to 50 GΩ), 500 V (500 kΩ to 100 GΩ), 1000V (100 kΩ ΰ 200 GΩ)
Measurement range with 2 TΩ option: 100 kΩ to 2 TΩ
Earth Bond Test Function
Measurement frequency: 50Hz or 60Hz depending on mains
Measurement current: 5 to 32A AC adjustable by steps of 0,5A (5 to 50A AC with 50A option)
Open circuit maximum output voltage: 6V AC, 8V AC with 50A option
Measurement range: 0 - 960 mΩ under 6 V AC, 0 - 1,500 Ω under 8 V AC
Please contact us for more information.