Sato CG2 Series 2-Inch Desktop Barcode Label Printers (CG208DT, CG212DT, CG208TT, CG212TT)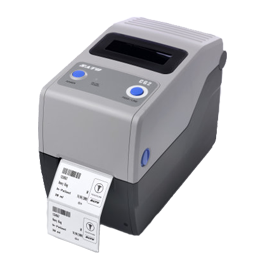 OVERVIEW

Affordable 2-inch desktop printer offering unrivalled performance, convenience and versatility

With superior performance and affordable price, SATOís CG2 printer series is best-in-class and available in direct thermal and thermal transfer as well as 203 and 305 dpi print resolution. It comes with competitive emulations on board, optimal interfaces (built in USB as standard interface) and an anti-microbial casing for outstanding performance in clinical and processing environments.

Features

Flexible use
Standard communication interfaces include USB and RS232C or USB and LAN. Optional interfaces include wireless connectivity through WLAN.

High quality printing
Suitable for printing small 2D code or patientís photo on wristbands.

User-friendly operation
Intuitive label mechanism design allows media loading in 3 simple steps 'Drop-Load-Go'.

Hassle-free maintenance
One-touch, tool-less print head release mechanism enables print head to be quickly and easily replaced. Printer platen roller can be replaced without the need for any tools.

Safe for use
Anti-microbial casing makes it suitable for applications in clean environments such as hospitals.

High compatibility
Printer language options enable replacement of competitive printer models with minimal re-programming of data streams.

Standalone capability using keypad
CG2 Keypad allows users to format, store, input & print without connecting to a PC. Label formats can be stored, and called on at time of printing.

Options:
Cutter, Unwinder, Real Time Clock(RTC), Stacker, Plug-In Interfaces

Models:
CG208DT, CG212DT, CG208TT, CG212TT


Please contact us for more information.