SIC Marking E1 P123 Portable Dot Peen Marking Machine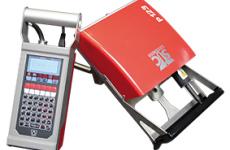 The new e1 p123 portable engraving machine allows its operator to create permanent and precise dot peen marks directly on any material. Its lightweight, compact build make it ideal for marking heavy or oversized components.
This machine's dot peen marking is driven by electromagnetic pulses which drive a tungsten carbide stylus into the surface material. Known for its high quality and deep marking capabilities, this machine is particularly suitable for creating 2D data matrix codes. The generous marking window (120 mm x 40 mm) allows for the marking of high, easily read characters.
The e1 p123 portable marking machine has a robust yet well balanced and ergonomic design making it perfect for any job where maneuverability and portability are essential.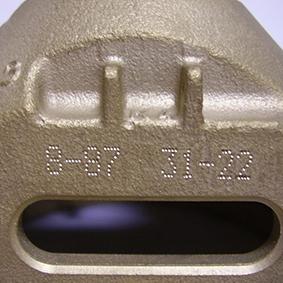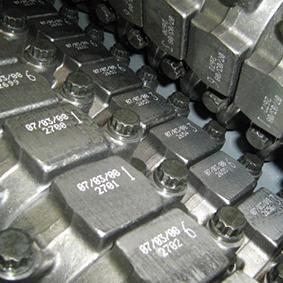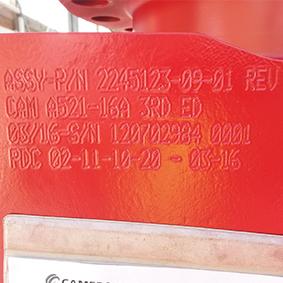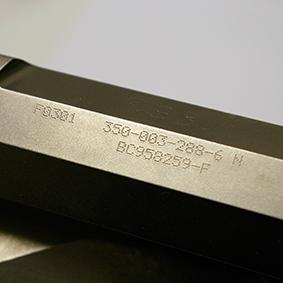 Mechanic Features
| | |
| --- | --- |
| Marking Window: | 120 x 40 mm |
| Dimensions: | 317 x 217 x 218 mm |
| Weight: | 3.7 kg (8.1 lbs) |
| Robotic Cable: | 3m |
| Stylus: | Carbide |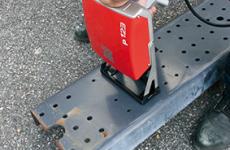 Electronic Features

SIC Marking's e1 Controller independently operates and manages this marking machine, meaning no PC is required for operation. Initial setup can be done from a PC using the e1v1 software, while the USB port allows file transfer and marking software updates.
The e1 was ruggedly designed for industrial applications. It contains no openings or ventilation components providing optimal protection of interior electronic components. Thanks to its large aluminum handle, the grip is more comfortable than previous designs. The HD color screen features an integrated graphic display, making it easy to navigate. Using the protected membrane keyboard, programming is simple: the e1 allows for the direct change of settings and marking designs via manual input, or pictogram colors. The controller only weighs 2kg. Coupled with its marking unit, it offers perfect balance for increased mobility and maneuverability.
| | |
| --- | --- |
| Dimensions: | 301 x 121 x 87 mm |
| Weight: | 2 kg (4.4 lbs) |
| HD Color Screen: | 95 x 54 mm |
| Keyboard: | Integrated |
| Power: | 100W |
| Supply: | 100 to 240 VAC, 50 / 60 Hz |
Steering Software

The e1 integrated controller software is used to program all parameters directly through the keyboard (autonomous operation). A Windows tool library also allows programming from a PC.
| | |
| --- | --- |
| Marking Files Storage: | Up to 20,000 files |
| Memory: | 100 Mo |
| Variable: | Alphanumerical, Serial, Date, Barcode, Logos |
| Marking Files: | Up/Download from a USB key |
| Fonts: | Courier, 4 x 6, OCR-Bold, OCRA, OCR |
| Marking Type: | Linear, Radial, Angular, Datamatrix, Logo |
| Speed: | Up to 2.5 Characters per Second |
| Character Size: | Minimum 1 mm |
| Impact Force | 1 - 9 Levels |
| Depth: | Up to 0.3 mm |
| Resolution Between Dots: | 0.05 mm |
Communications
Options

Maintenance Kit
Extended maintenance kits contain most common replacement parts for repairs or preventive maintenance, extending machine life.
Benefits:
Dot peen stylus assembly (if dot peen machine)

Origin detector

Stylus

Spring mechanism

A set of drive belts (depending machine type)

Vaseline oil lubricant (to be ordered seperately)
Cart for Portable Range
Cart & battery option for portable marking systems.
Benefits:
Economical and easy to use, provides total marking mobility

Ideal configuration for all outside markings (no need for compressed air line)

May be retrofitted with existing SIC Marking systems
Hook and Balancing System
Hook and balancing system reduces worker fatigue.
Magnetic Clamp
This high powered magnetic clamp facilitates steady marking.
Button Box
Box with on / off buttons. Remote system start/stop. 2.5 m connection cable to controller.
Benefits: