Zebra GT800 Desktop Barcode Label Printer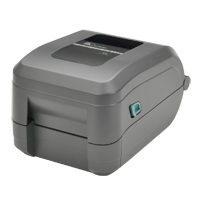 Affordable with quality, durability and versality
Providing enhanced performance and reliability at a competitiveprice, the GT800™ direct thermal/thermal transfer desktop printeroffers a wide range of advanced features to meet a variety of lowto medium-volume printing applications. These include productivityenhancing features such as a 300 meter ribbon that limits downtimeby requiring less-frequent replacement; fast, 127 mm per secondprint speed; powerful 32-bit processor for fast label throughput; anda large memory for faster processing plus support for more graphicsand longer labels.
Superior and practical design
Built with Zebra quality and durability and designed for versatility andeasy integration, with a flexible choice of three connectivity interfacesand optional 10/100 Ethernet, as well as co-resident EPL2™ andpowerful ZPL II® programming languages for compatibility with allZebra printers. With support for media widths up to 114 mm, theGT800™ is ideal for many applications including those requiringwider media.
Zebra's GT800™ supports many applications,
including:
• Manufacturing—Light-industrialwork-in-process, product andshipping labeling
• Transportation & logistics—Boarding tickets, bag tags,parking passes
• Government—Assetmanagement, documentsmanagement, evidence tracking
• Healthcare—Laboratoryspecimen and blood bank labeling
• Retail—Price labeling and receiptprinting
Standard Features
• 300 meter ribbon capacity
• 32 bit RISC processor
• Co-resident EPL2 and ZPL II programming languages
• Triple connectivity: Serial, USB and parallel
• Print methods: Thermal transfer and direct thermal modes; printing of bar codes, text and graphics.
• OpenACCESS™ for easy media and ribbon loading
• Microsoft® Windows® drivers
Printer Specifications
Resolution
203 dpi/8 dots per mm
Memory
8 MB Flash, 8 MB SDRAM (standard)
Print Width
4.09"/104 mm
Print Length
39"/991 mm
Print Speed
5"/127 mm per second
Media Sensors
Reflective and transmissive sensors
Media Characteristics
Media width
.75"/19.5 mm to 4.49"/114 mm
Media length
0.25"/6.5 mm to 39"/991 mm
Maximum media roll size
5"/127 mm O.D. on a 1.00"/25.4 mm, 1.5"/38 mm I.D. core
Media thickness
0.003"/0.08 mm to 0.007"/0.18 mm
Media types
• Roll-fed or fan-fold
• Label stock (die cut or continuous, direct thermal or thermal transfer)
• Tag stock (die cut or continuous, direct thermal or thermal transfer)
Ribbon Characteristics
Outside diameter
2.6"/66 mm (300 m); 1.34"/34 mm (74 m)
Standard length
984' (300 m); 242' (74 m)
Ratio
• 1:4 One ribbon roll per 4 rolls of media (300 Meter)
• 1:1 One ribbon roll per roll of media (74 Meter)
Width
1.33"/33.8 mm to 2.4"/58 mm
Core I.D.
• 300 m ribbon 1.00"/25.4 mm
• 74 m ribbon 0.5"/12.7 mm
Please contact us for more information.